Posted on: 2023.02.20
Written by: Thomas Kilian, Chaplain
Although King Saul of Israel favored David and appointed him his armor-bearer, Saul grew jealous and eventually wanted him dead. David fled from place to place as King Saul and his men tried to hunt him down. One of the places that God provided for David was En Gedi. The book of First Samuel says:
After Saul returned from pursuing the Philistines, he was told, "David is in the Desert of En Gedi."So Saul took three thousand able young men from all Israel and set out to look for David and his men near the Crags of the Wild Goats. (1 Samuel 24:1-2)
After fleeing and hiding from Saul in the desert, David and his men felt when they took refuge in the crags of En Gedi. Why the En Gedi? The middle of the barren hills that surround the Dead Sea, called the En Gedi, featured many caves in the mountains where David could hide. It also featured an oasis of fresh spring waters coming from cliffs by which goats would quench their thirst.
Though deserts are never an ideal place to live, David trusted God to protect and provide for him there. Unlike David, many remain in harmful situations and relationships instead of fleeing because they fear something worse will happen to them. This is called "trusting and relying on your understanding" (Proverbs 3:5-6).
After hiding from Saul in the wilderness and experiencing the physical feeling of refuge and refreshment at En Gedi, David allowed his experience to inform him spiritually. David meditated on his experience, which eventually led him to Worship God Almighty:
O God, you are my God; earnestly I seek you;
my soul thirsts for you;
my flesh faints for you,
as in a dry and weary land where there is no water.
So I have looked upon you in the sanctuary
beholding your power and glory.
Because your steadfast love is better than life,
my lips will praise you.
So I will bless you as long as I live;
in your name I will lift up my hands.
My soul will be satisfied as with fat and rich food,
and my mouth will praise you with joyful lips,
when I remember you upon my bed,
and meditate on you in the watches of the night;
for you have been my help,
and in the shadow of your wings, I will sing for joy.
My soul clings to you;
your right hand upholds me.
But those who seek to destroy my life
shall go down into the depths of the earth;
They shall be given over to the sword's power;
they shall be a portion for jackals.
But the king shall rejoice in God;
all who swear by him shall exult,
for the mouths of liars will be stopped.
— Psalm 63
No matter the situation, the LORD can protect and provide for you. The safest place to be is where God puts you, even if that place looks barren.
We are also reminded by David's psalm how every Christian experiences times of spiritual wilderness, times with spaces where there seems to be no revelation or guidance from God, only discouragements by others. Even so, desserts can have water. When we behold God's splendor, He becomes all we need, refreshing our soul in ways that surpass feelings and intellect—we become filled with rich fat and chilled water.
---
Find En Gedi on the map below. Notice how close this oasis is to the Dead Sea (about a mile), how isolated it is from the civilization of the Judea Mountains, and how expansive the wilderness is from north to south.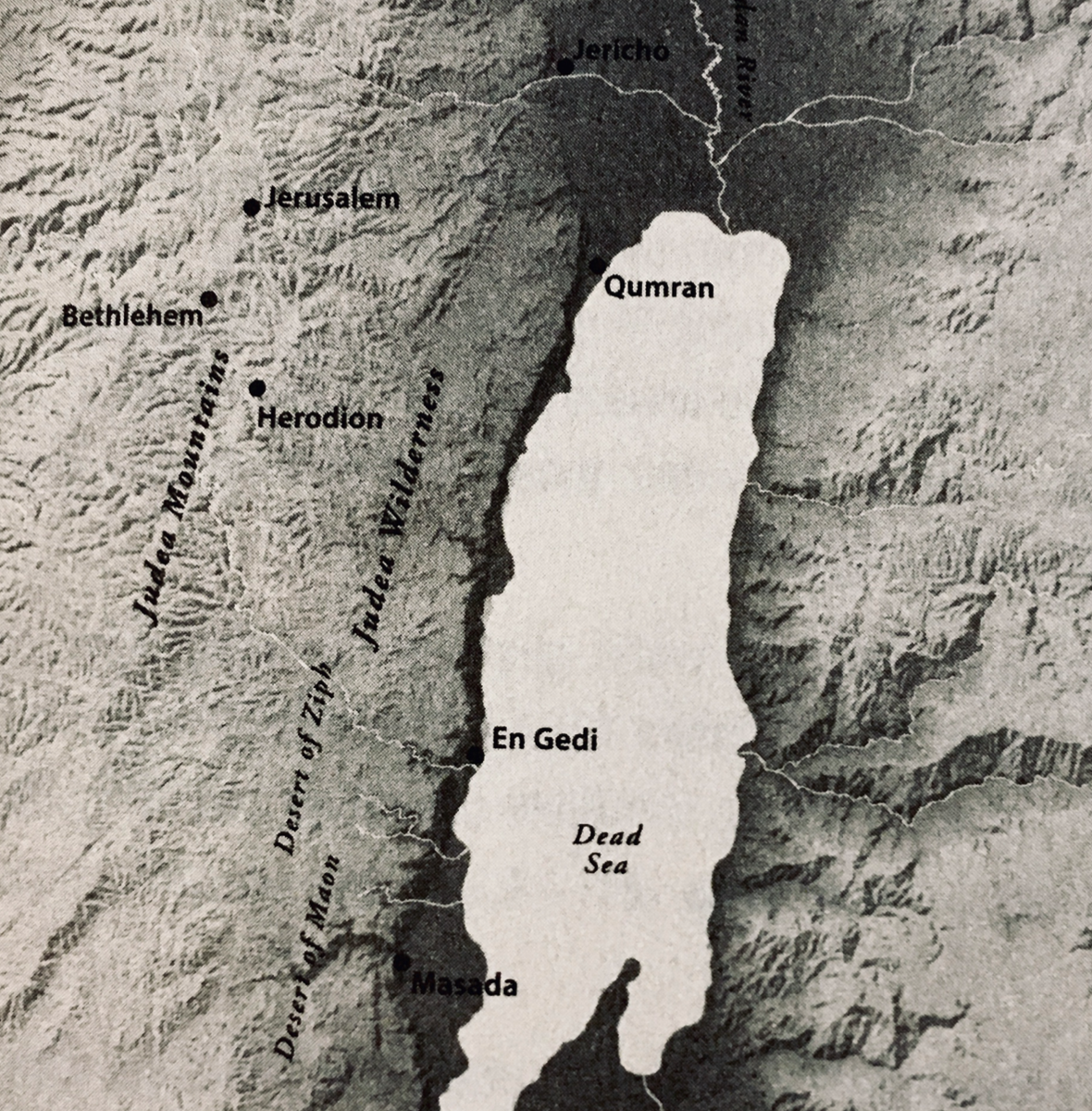 • When life is challenging and demands all we have to give, much as life in the wilderness does, what does time with God each day provide for us? To what did God liken himself? (See Jeremiah 2:12)
• How desperately does God say we need what he provides for us? (See Jeremiah 17:13)
• Which images did David use to describe his need for God?
• What did Jesus say about the "living water" he came to give? (See John 4:13-14)
• At the end of Sukkot (Feat of Tabernacles), Jesus offered a bold invitation regarding living water. (See John 7:37-52) What did he invite crowds of people to do, and what did he say would be the result?
---